Water tanks are the primary source of water storage in Delhi and other metro cities of India. Underground and overhead water tanks are widely used in your homes, offices, clinics and stand-alone hospitals all around the NCR area.
With the passage of time these storage tanks accumulate mud and silt, sediments and other unwanted substances due to leakage, rain water flow, which become the medium in which all the bacteria, fungus and algae grow..
This results in contaminating the water stored in these tanks. When used continuously, the polluted water affects your health. Waterborne diseases like Typhoid, giardia, cholera are fatal and children, pregnant women, aged people and the ones with low immunity fall prey to these diseases easily.
Read about lead contaminated water and what it can do to your health!
Increasing numbers in skin disease patients due to water pollution is also a point of concern. Therefore it becomes necessary to clean water tanks whether you live in Delhi or anywhere else in the country.
How to Clean Water Tanks In Delhi Without Removing Water? Non-Invasive Cleaning 2022
Over the last 10 years we are rendering water tank cleaning services across Delhi, Gurugram, Noida and Delhi NCR. The technology we offer is non-invasive. It's an advanced method that uses less water as compared to conventional cleaning methods. Old methods require emptying the tanks and physically entering into the water system.
Over the years mechanised water tank cleaning has evolved but still in India it's not followed by everyone. A majority of water tank cleaners in Delhi and other parts of the country use tank cleaning methods that aren't safe or sanitised.
Non-Invasive water tank cleaning in Delhi
At GD Water Consult we offer a safe, sanitised and almost no contact water tank cleaning with high-tech machines and expert technicians. Non-invasive water tank cleaning aims at maintaining hygiene while the tank is being cleaned.
When done on a timely basis non-invasive water tank cleaning offers higher levels of water saving as compared to the other conventional water tank cleaning services in the market.
How to clean water tanks without removing their water (POSSIBLE or NOT?)
Yes! It's possible to clean water tanks without removing their water. Water is required for the tank cleaning whether it's done non-invasively or any other way. BUT the major difference here is the water wastage that conventional cleaning methods do. Our non-invasive water tank cleaning method helps save water as you don't have to empty the tanks like in the old mechanised technique.
In the first couple of services water consumption is higher as debris and contamination levels are higher when the tank is being cleaned 2-3 times. Still it's less than the other water tank cleaning techniques! After a couple of cleaning your water tanks will be cleaned by using just upto 25-30% water of their capacity.
In manual and other mechanised tank cleaning methods used in Delhi or the other parts of the country your water tank is emptied whenever a cleaning is to be done. Hence, it's true that water tanks can be cleaned without removing their water.
Reach us for non-invasive water tank cleaning in New Delhi!
How to Clean Water Tanks In Delhi Without Removing Water? Non-Invasive Cleaning 2022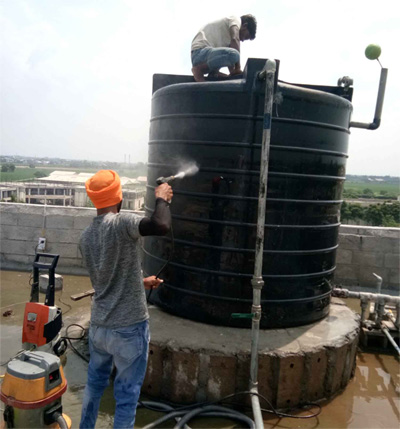 Time is so high that we shift to water conservative tank cleaning services. Sustainable living is the future where we live in harmony with nature. Clean water resources are scarce and depleting too. Therefore, it becomes a necessity and duty to choose tank cleaning services that are safe, hygienic and no-invasive.
It helps save water and deliver healthy O2 to your families, office spaces and other commercial standings. GD Water Consult uses a non-invasive technology for water tank cleaning without removing the water in it.
Do you want to learn about the process, reach us at info@gdwaterconsult.com If you live in Delhi, Gurugram, Noida and Delhi NCR and want to get your water tanks cleaned non-invasively, connect with team GD Consult through a call on 91-99991-23030
Stay tuned to GD Water Consult on Instagram